Company Profile
---
GIFFINDEX® Thailand trademark registration number 231104391

For more than 3 decades since its establishment,
GIFFINDEX® has stayed on its initial philosophy to produce the highest quality products with reliable services.
We started our business by providing customers with excellent quality hydraulic , gas spring and gas lift and all printing system for plastic material. Afterwards, we gained more reputations.
Thus, we diversified to other types of hydraulic applications to meet the needs of our customers,
such as Smart Adjustment Desk, Gaming Desk , Hospital Desk.
Today, it is widely accepted we are the leading Smart Desk and Plastic Printing system manufacturer in Thailand.
Nevertheless, we have never stop developing and innovating in order to make our product the perfect answer for every desk question.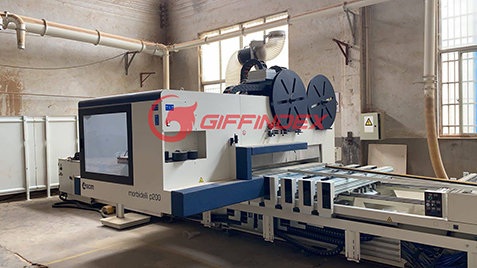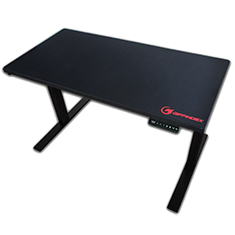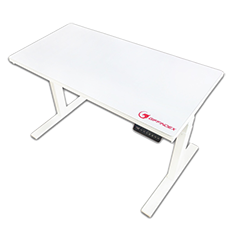 Current daily lives of most people. Popular works long hours at a computer. This is not a serious health effects.
We had the idea to establish a network on behalf GIFFINDEX up to the production and distribution of desks to health in particular.
It is important to the health of users. And use the best grade material and the production of the parent company. To provide users with the best quality products.
GIFFINDEX certified quality table. And leveling system All of the institutions involved. ISO:9001 CE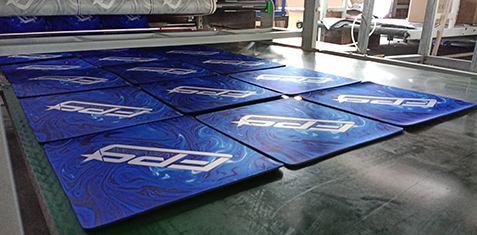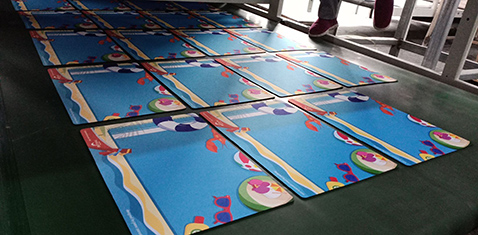 2017 GIFFINDEX® co-founder Mr.Ratchaphon Chongjaroensiri become a part of N.T.P. Marketing Ltd., Part. in Thailand to improve power of printing technology such as Heat Transfer , Water Transfer , In mould and the World Latest Technology DEHT Double Engrave Heat Transfer for the best Fluorescent and Foil Printing.

N.T.P. Marketing Ltd., Part. was established under the Jongcharoensiri family leader of Plastic Manufacturer in Thailand since 1998.
GIFFINDEX under N.T.P. Marketing Ltd., Part. is also a leader in the production of many types of plastic such as mouse pad production, Playmat production, PVC film production, OPP film production, foil production. Inmolle, Inmold Label, produce a work of Shrink Label, Shink Label can be made to order foil (Foil) for gold foil, silver foil, rainbow foil on Mouse pad and Trading Card Game Playmat on customer specified location. Such as the Pokemon TCG card slot, Yu-Gi-Oh!, Magic: The Gathering, Vanguard Card Fight, One Piece Card Game and is the creator of the legendary water bowl, flower pattern, fruit pattern that is now everywhere. In Thailand, Laos, Myanmar, Cambodia, Vietnam, we started using the technology of injecting fruit pattern film into the plastic water bowl with In-mold Label technology for more than 40 years with expertise in all printing systems such as Digital Offset, Flexography, Silkscreen, Gravure, Inkjet, Sublimation as well as understanding the ingredients of all plastics. We are therefore confident that we are number 1 in all plastic printing.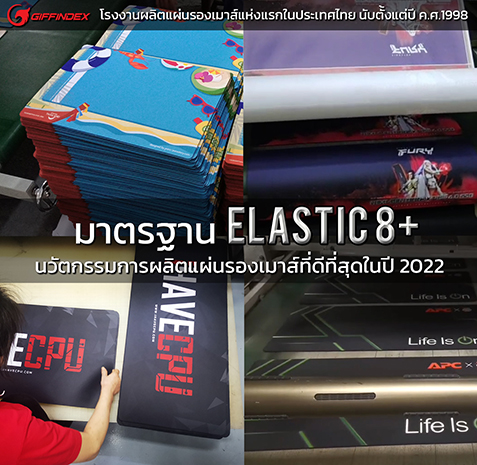 GIFFINDEX, the largest mouse pad manufacturer in Thailand since 1998, operates in accordance with the ESG policy to conserve the environment and control chemical emissions into the atmosphere. Foreseen that the introduction of Silver Nano was used with a mouse pad. It's very easy to do. and can create a selling point to kill bacteria But when compared to the environmental impact We therefore do not recommend using Mousepad with nano silver For customers who want to use a mouse pad, desk pad or game board. mixed with nano silver Can contact and order production by GIFFINDEX will provide knowledge and understanding of use. cleaning and proper storage for all customers directly before selling every time
Thailand is the number 1 exporter of para rubberwood in the world because raw materials are of high quality and cheap. That's the advantage of GIFFINDEX to easily access good quality rubber raw within Thailand. We help rubber farmers to have a steady income. by ordering dozens of tons of rubber per year and then ground to be rolled into sheets in our factory without having to rely on raw materials from abroad GIFFINDEX products are high quality and fresh rubber, and are also cheap, making it easy for customers to access.
Our company is constantly studying and researching the world's most advanced raw materials. regardless of market competitors Currently, Roger Corperation The owner and producer of PORON® Microcellular Polyurethane come to GIFFINDEX Thailand and said that GIFFINDEX is the First company in Thailand to contact Rogers Corp. PORON material for produce mousepad and playmat.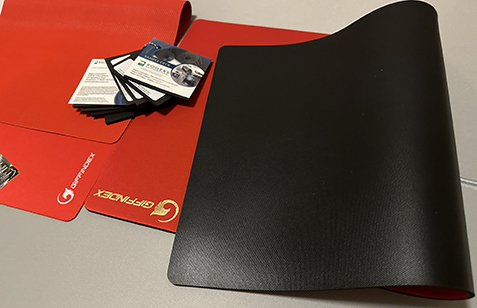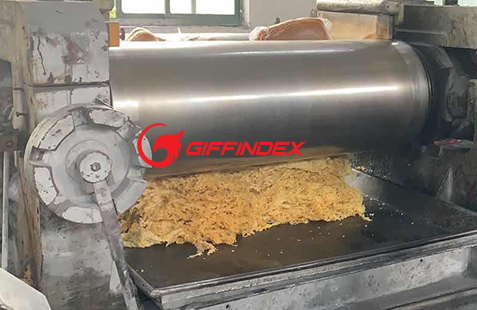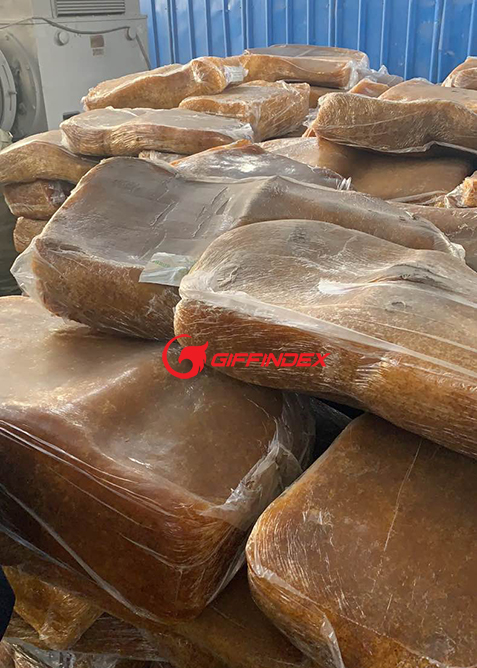 GIFFINDEX cutting mousepad all size and all shape with sharp edge.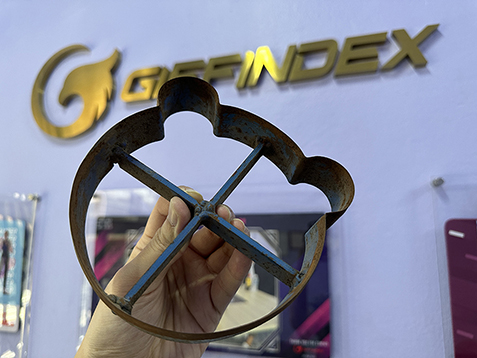 Since many decades ago The scientific and medical circles know that Nano Silver has the ability to kill bacteria. which is suitable for specific use But nowadays, when business competition is more intense People are starting to look for personal gains rather than environmental concerns and the negative effects on the planet.
For example, using silver nano for towels. or different types of fabric that need to be washed Because silver nano, when washed, will peel off from the fabric. When the washed water enters the water pipe and flows to the septic tank or into the soil, the silver nano will destroy the bacteria in the water. This causes some bacteria that eat garbage or keep water from spoiling. When bacteria in the water are destroyed by silver nano The water then spoils and affects the soil and plants accordingly.
With more than 30 years of expertise in printing all systems, even stitching edge can be printed in high quality detail without interruption.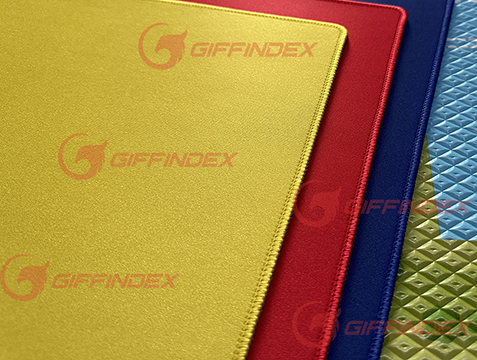 Guaranteed production without sulfur and without mixing nano silver. Every production process is operated under the concept of ESG, environmentally friendly.
With GIFFINDEX's determination to continuously improve quality, all the world's leading companies trust and travel from abroad to order mouse pads and play mats at our factory. Such as the world's highest-grossing animation and game brands. The Pokémon Company from Japan Travel to our factory to discuss the future of Playmat products.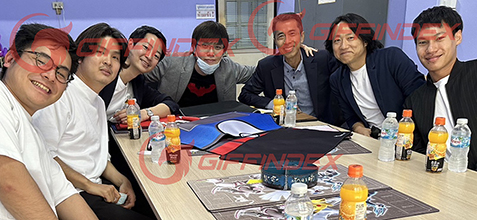 Pokémon Trading Card Game team and Mr. Rachaphon Goo Jongcharoensiri at GIFFINDEX Thailand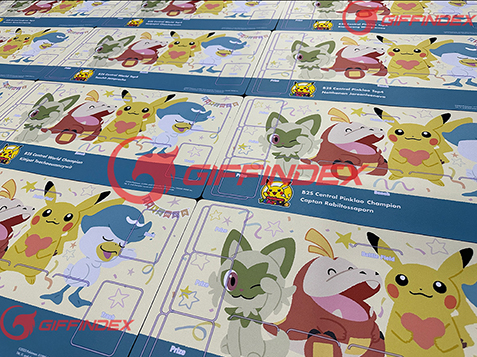 Including the leading card game brand from Japan like Cardfight Vanguard.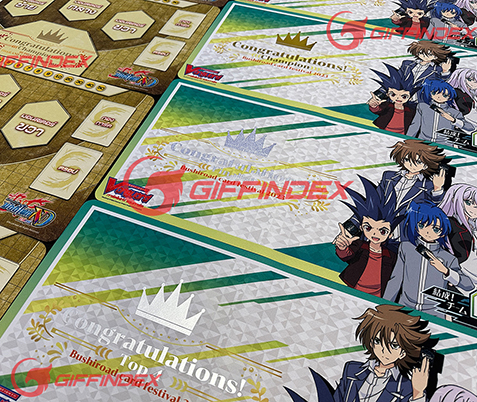 And it is a great honor that our Giffindex has been honored by the UN (United Nations) to produce mouse pads used for the CASA (Clean Air for Sustainable ASEA) project, which is in line with our GIFFINDEX policy that cares about The environment is important. Therefore, an environmentally friendly mouse pad with STR Elastic 8+ (E8+) rubber properties, which is sulfur-free and environmentally friendly, was produced for the mouse pad in this project.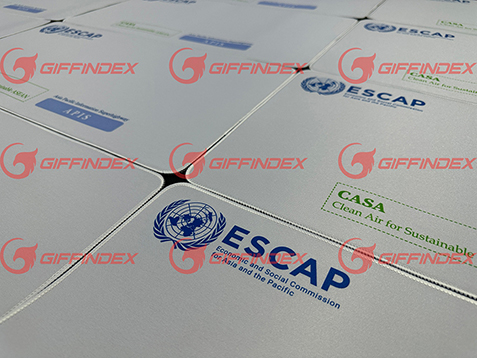 Thank you UN for trusting in our quality.